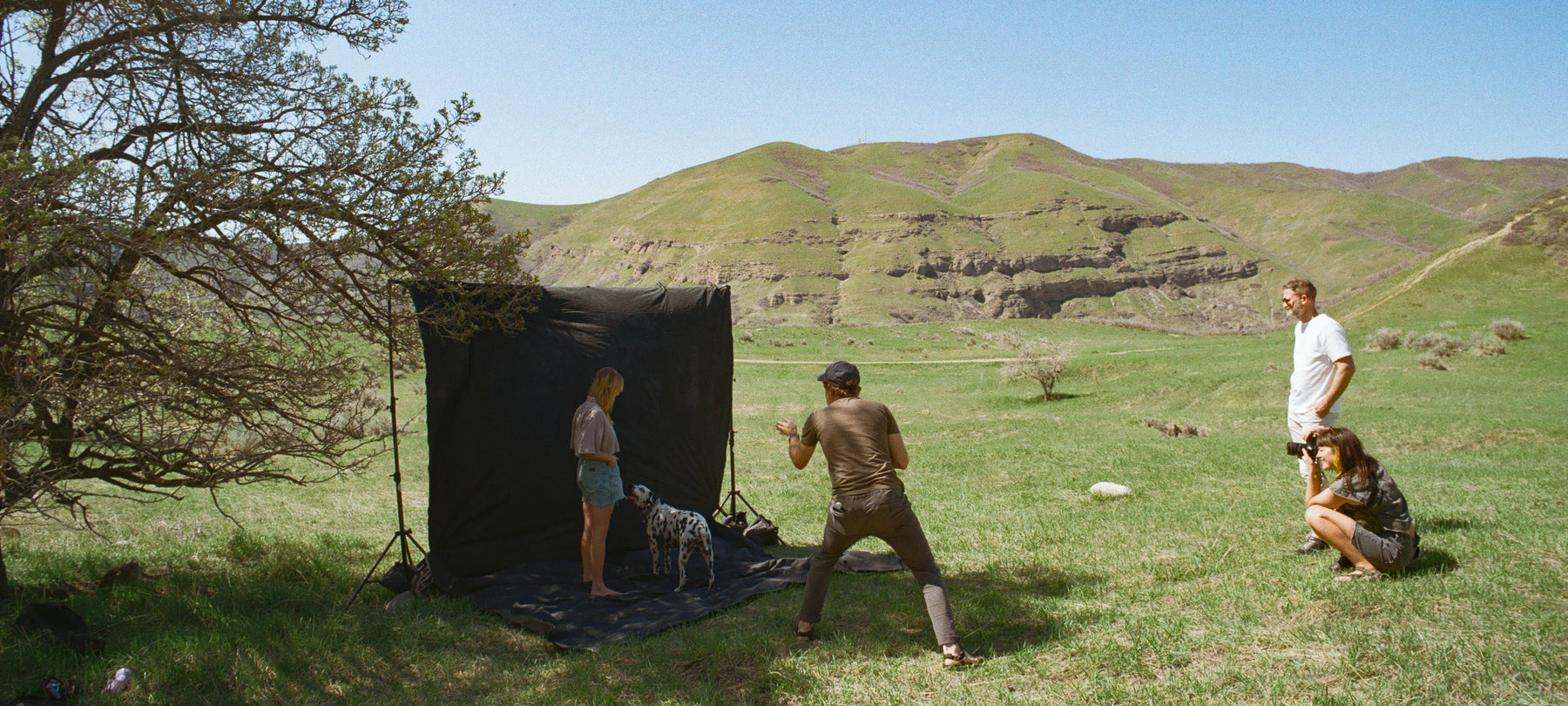 Backdrop in a Bag FAQ
Ultraviolet's Backdrop in a Bag is a backdrop like no other.
Weighing just 3 lb our perfectly imperfect, flexible Backdrops in a Bag are painted on lightweight muslin fabric for easy transportation and no-fuss installation and storage. 
Celebrating process, color, and flow each one of a kind Backdrop in a Bag includes: 1- 5x7 hand painted muslin backdrop, 1 hand painted Studio Tote, and 2 heavy duty black clips.
Keep reading to learn the ins and outs of Backdrop in a Bag and please, if there's anything you want to ask that you can't find here on our FAQ reach out via our contact page- we are happy to help. 
How do I know which backdrop in the colorway I am purchasing?
As a hand painted backdrop, Backdrops in a Bag are one of a kind. The photographs in each listing depict the colorway and do NOT represent the exact backdrop and/or bag you will receive in your order.
Will my Backdrop in a Bag have wrinkles and fold lines?
Yes. You can soften or entirely remove wrinkles by generously misting the entire surface of your backdrop with a spray bottle (which will fit perfectly in your bag) or use a steamer. Depending on your climate, and how thoroughly you saturate your backdrop, it can take 5 minutes to 1 hour to dry entirely. Use sweeping, slapping motions while you're spraying the backdrop to urge the wrinkles out. Or...embrace the crinkle/wrinkle texture.
Depending on your shooting style/apertures/film stocks/aesthetic/lens and which side of the backdrop you shoot the lines will vary in their intensity/visibility. 
The more you use, fold, hang, play with these lightweight, go anywhere wonders- the more mailable (and yours) they become. 
Want more crinkle and less lines? Try scrunching your backdrop into a ball and storing in a bag though, those crinkle lines may be more troublesome to remove so it may be a good idea to commit to this aesthetic preference in the long term. 
How do I fold it up? 
We prefer hamburger fold as 1- the gravity pull while hanging will naturally soften some of the horizontal lines and 2- it seems to be easier to fold it this way. 
Can I wash my backdrop? What about the bag?
We recommend trying for a spot clean first. But we say- do what calls you AND expect Backdrop in a Bag to dramatically fade in the washing process. To mitigate fading use cold water, mild detergent and hang dry. The bag will wash perfectly cold, air dry. It may fade in time. 
How often will Ultraviolet release Backdrop in a Bag? 
When we feel called. 4-6 releases in 2023 is our initial feeling. 
Do you plan to offer custom commissions for Backdrop in a Bag?
Not at this time, no. 
Will ya'll paint bigger sizes?
We do! Check out our BIG Backdrops in a Bag HERE! 
Will ya'll still make your classic canvas backdrops? 
Absolutely.