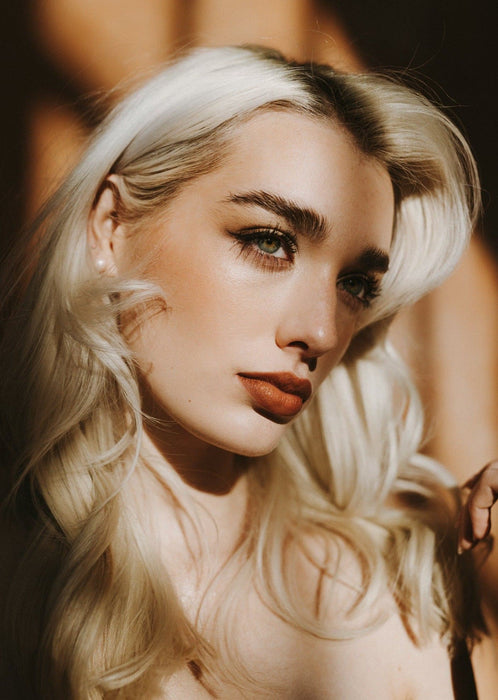 Petal #0203-Sandstone Study // Large Hand-Painted Canvas Backdrop
Sold out
Original price
$506.00
-
Original price
$506.00
Ultraviolet Hand-Painted Canvas Backdrop // Petal #0203-Sandstone Study
Ultraviolet's Sandstone Studies are inspired by ever-changing sandstone landscapes and the wind and water that shape them.

Purple petals speckle mottled clouds of coral and violet and creamy buttery yellows- oh my! A sandstone study with attitude. 
Photo of model shared compliments of Marina Williams. 
Features:
Large (5'11"x9'10") 12-ounce cotton canvas hand-painted by Matthew Peterson at Ultraviolet Studios, Utah
Medium weight
7 lb 13 oz
Detail photos feature bottom left, center, and top right portions of the listed backdrop, in that order. Any subsequent images highlight notable areas.
Handmade in the USA with imported and domestic products
Collector may notice intermittent brush bristles or concentrations of paint embedded in the final work. We engage in creative experimentation and do not claim or seek for perfection.
Shipping and Policies:
Free shipping for clients in the lower 48. Ordering from

 

Hawaii, Alaska or

 

Canada? Reach out to Ash via our chat or contact page.

Local pick-up is offered to our Utah-based clients
All backdrops are available for rent and/or purchase
All sales are final
"The source of all abundance is not outside you. It is part of who you are. However, start by acknowledging and recognizing abundance without. See the fullness of life all around you. The warmth of the sun on your skin, the display of magnificent flowers outside a florist's shop, biting into a succulent fruit, or getting soaked in an abundance of water falling from the sky. The fullness of life is there at every step. The acknowledgment of that abundance that is all around you awakens the dormant abundance within. Then let it flow out. When you smile at a stranger, there is already a minute outflow of energy. You become a giver. Ask yourself often: "What can I give here; how can I be of service to this person, this situation?" You don't need to own anything to feel abundant, although if you feel abundant consistently things will almost certainly come to you."- Eckhart Tolle from A New Earth