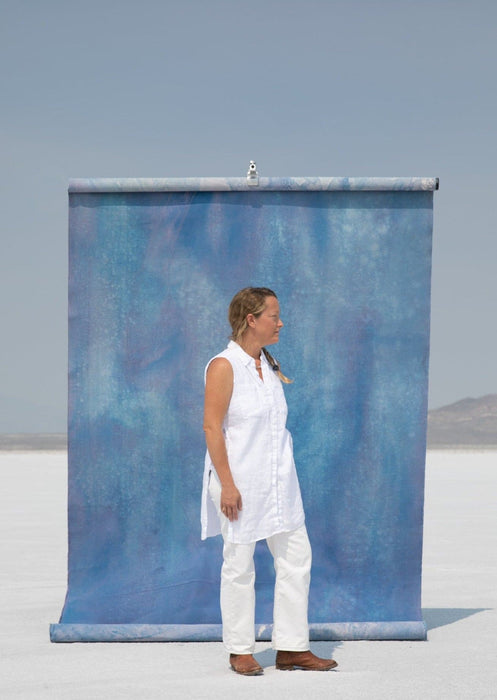 New Hyacinth #0121 // Large Hand-Painted Canvas Backdrop Painting
Sold out
Original price
$469.00
-
Original price
$469.00
Ultraviolet Hand-Painted Canvas Backdrops // New Hyacinth #0121
This painting is inspired after TS Eliot's, "The Waste Land" which begins, "April is the cruelest month". A fitting poem for late winter longing. Blues surrender to purple exaggerating the relationship between these bold colors in a mesmerizing mirage of tone and texture.
Detail photos feature bottom left, center, and top right portions of the listed backdrop, in that order. Any subsequent images highlight notable areas.
Photo of wigged diva shot on Portra 400 film and are shared with permission of Mindy Gledhill as Madam Bandit and KJ Rhodes.
Features:
Large (5'11.5"x9'10") 12-ounce cotton canvas hand-painted by Matthew Peterson at Ultraviolet Studios, Utah
Handmade in the USA with imported and domestic products
Collector may notice intermittent brush bristles or concentrations of paint embedded in the final work. We engage in creative experimentation and do not claim or seek for perfection.
Shipping and Policies:
Shipping & Handling costs are calculated beginning at $65. If shipping costs exceed this minimum (whether due to weight, unique sizing, East Coast shipping, or orders requiring multiple packages), the client will be invoiced for the difference upon shipping.
Local pick-up is offered to our Utah-based clients
All backdrops are available for rent and/or purchase
All sales are final

"—Yet when we came back, late, from the Hyacinth garden,
Your arms full, and your hair wet, I could not
Speak, and my eyes failed, I was neither
Living nor dead, and I knew nothing,
Looking into the heart of light, the silence.
Oed' und leer das Meer"
- from TS Eliot's, "The Waste Land"